Vel Tye helps keep L.A.-area schools safe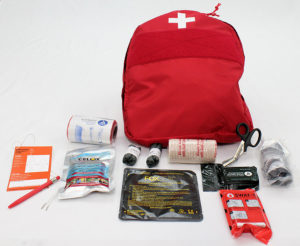 Collaboration between L.A. Kings and Redondo Beach Police Department puts Vel Tye emergency gear in classrooms
With school shootings on the rise, schools and communities across the country have taken steps to increase the safety and preparedness among students and faculty.
A 2017 school shooting in San Bernadino that left one student and one teacher dead led to a collaboration between the Redondo Beach Police Foundation and the L.A. Kings hockey team. Together, they contributed $50,000 to purchase emergency safety backpacks for all 460 classrooms in the Redondo Beach School District. The backpacks are manufactured by Vel Tye and stocked by Vel Tye partner, Total Quality Solutions.
Each backpack contains items used to treat traumatic injuries, including tourniquets and splints. Local paramedics and EMTs will give staff 90-minute trainings on how to use the medical equipment quickly and correctly. Major bleeds can kill in a matter of minutes. Together with the proper training, the right equipment can mean the difference between life and death in emergency situations.
Vel Tye is proud to work with the Redondo Beach Police Department and the L.A. Kings on this important project.